Ableton regala due Live Packs
Posted 23/12/2010 by Padmé Amidala in
MAC NEWS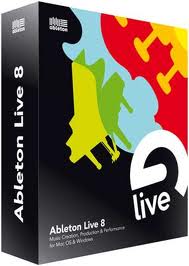 Per Natale Ableton offre due Live Packs gratuiti (che richiedono la versione 8.2 o superiore del software Ableton Live). Per scaricarli bisogna essere iscritti al sito.
L'azienda avverte che non si può farne un uso commerciale e che i due Live Packs usano strumenti che sono disponibili solo come add-on o quali componenti di Ableton Suite.  Se si aprono questi Packs e non si hanno tutti gli strumenti che impiegano, oppure se si utilizzano Live Intro o Live Lite, allora Live verrà eseguito con le funzioni di registrazione ed esportazione disabilitate.
Riguardo al contenuto dei Packs, lascio più che volentieri la parola ai due creatori.
Everett Bradley:
In this package, my keyboard player and arranger Daniel Mintseris and I have created a very special funky gift for you. From my new holiday/funk album HOLIDELIC, I've taken Peter Tschaikovsky's "The Nutcracker-Dance of the Sugar Plum Fairies" and served it up with a side of funk. This track is deliciously renamed "Sugar Rump Fairies." There are plenty of yummy mixed down audio files of a live funk band, classic 808 drum sounds, P- funk style vocals, and live classical clarinets and flutes. It's up to you to throw your own spices into this bumpin' holiday classic. Enjoy.
Christopher Tignor:
The cold snap has arrived here in the Bronx. Feral cats huddle together for warmth beneath old Chevys. It was on such a winter's day that I began experimenting with the violin loops that I record live while playing the song "Wood, Metal, Bone" off the new Wires.Under.Tension record Light Science. This violin technique, known as bariolage, makes use of high-energy string crossings to create melodic arcs which convey the very essence of the instrument. That song gets a lot of practice because the technique is challenging, but more importantly, all that bowing is a great way to keep warm down here in my underground studio.

We're always looking to get the instrumentally idiomatic to speak in new tongues. By taking these samples and subjecting them to some automated transformations, a sort of neo hip-hop flavor fell out. Using drum samples taken off another track, "Mnemonics in Motion" played by Wires.Under.Tension's better half, Theo Metz, these fantastic, off-kilter hi-hat grooves arrived. The core sounds of the band then all found their way in: digitally extended glockenspiel melodies, punchy brass hits and even some overdriven clavinet. Theo and I were impressed at how the whole thing uncannily expressed the vibe of my newfound neighborhood and in a nod to the public high school of the same name, "Bronx Science" was born.

I've divided the song up into many finely grained scenes. In each scene name, you'll see the number of bars that I let each last before moving on. Of course, feel free to linger or hurry as you like or skip the script entirely.